Treasures in Downtown Columbia County
The charm of the historic downtown was instantly seen and felt. After parking beneath a massive 3D mural illustrating the magic of the local culture, we took in our surroundings. Dominating the city square was The Hotel Blanche. Closed since 1967, the hotel is home to several local shops on its ground floor. I grinned mischievously as I filled my husband in on the spooky tale of its potentially haunted second and third floors. Known for housing the oldest working elevator in Florida, I couldn't imagine what stories this historic icon would share if it could tell the tale of its golden era.
Next, our stomachs led us to the Marion Street Deli and Pub, a locally independent gastro pub, for a late lunch. Exposed brick walls and stained glass gave it a warm ambiance and we felt immediately at ease in the causal setting. The menu boasted made-from-scratch hummus, crispy truffle fries, flatbreads, burgers and more. Famished from our adventures, we ordered a spread complete with fried pickles, the fire and smoke flatbread and the Blanche burger. My husband, a whiskey and bourbon fan, ordered a flight of several intriguing whiskeys to pair with our meal. The pickles were just what you would expect from the South—a salty brine with the balance of that crispy batter. The fire and smoke flatbread was an indulgent treat with house-smoked brisket, gooey melted cheddar and sweet caramelized onions. We finished by splitting the Blanche Burger with its half-pound of black Angus beef. We agreed to return after the game with friends for live music and all-day happy hour, hopeful to celebrate a game day victory at our new favorite foodie destination.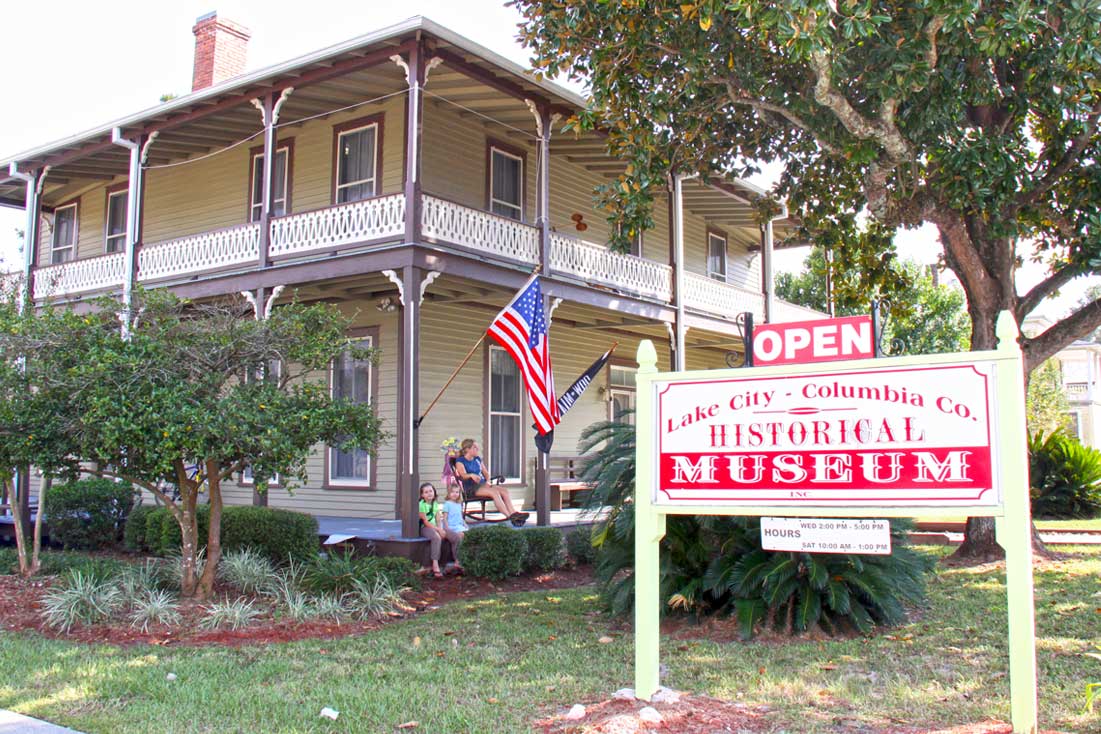 Utterly stuffed, we decided to walk around downtown some more before meeting up with our friends. As we neared the local shops, I remembered my best friend's birthday was just around the corner and promptly turned for a visit to The Blue Goose Studio in search for a one-of-a-kind gift. So many fun finds lined the walls and shelves making it nearly impossible to choose. I was smitten with the colorful selection of hand-painted shabby chic home goods and decor. Finally, I settled on a charming piece of local art and handmade soap that looked and smelled delicious.
As we departed the studio, we noticed an 1870s era Victorian house on the street. Curious, we approached and discovered it was the Lake City - Columbia County Historical Museum. The interior had been renovated recently to preserve its vintage structure, and it included a variety of rooms recreated to the time period of their themes. The Formal Parlor is furnished as it would have been in the late 1800s. The most fascinating room to me was the Blue–Grey room, which houses artifacts from the American Civil War such as diaries, firearms, swords and books.
Columbia County surprised us with its Old Florida landscape and small-town charm. David and I felt at home surrounded by friendly smiling faces and enjoyed diving into the history and lore of this culturally rich destination. We certainly wish we had more time to explore before heading out to meet our friends but we'll be back again soon to experience for ourselves more reasons to embrace this Florida gem.
Start your journey in

Columbia County